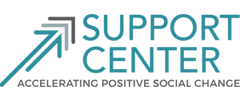 Support Center's mission is to empower nonprofits and social enterprises to transform their leadership and management and accelerate positive social change.  We are committed to working with nonprofit organizations and social enterprises of all sizes and at all stages of their development to strengthen their leadership, management, and financial sustainability.
Website: www.supportcenteronline.org
Works with the following types of organizations
Start-ups
Organizations in transition
Growing or expanding organizations
Provides the following types of programs
Consulting & Technical Assistance
Leadership Development
Networking Opportunities
Training & Educational Resources
Volunteer & Board Matching
Key Programs
Strategy & Management
We work closely with organizational leaders on strategic planning, growth and innovation to help them develop a clear view of their operating environment, organizational priorities, and realistic plans for the future.
Executive Transition
We work with organizations on succession planning, to ensure leadership continuity, and help place interim executive directors when the need arises. Through our executive search work we get to know your organization, its culture, and its community, so the search
and recruitment process is based on a true understanding of your organization's needs.
Professional & Leadership Development
Each year Support Center offers more than 80 affordable interactive workshops and events on a variety of management and leadership subjects for all levels of professional staff, board members, and volunteers.   Support Center's leadership programs engage diverse, passionate, and talented leaders from the social sector in structured peer groups to support, advise, and inspire each other. Customized trainings are also available.
Organizational Navigator
Support Center's organizational navigator program pairs organizations with an experienced nonprofit leader to support long-term change. For an hour a week, the program focuses on grappling with key strategic issues such as shifts in the operating environment or growth planning.
Contact
New York Office
32 Old Slip, 24th Floor
New York, NY 10005
Support Center is located at 32 Old Slip between Front Street and South Street.
New Jersey Office
One Gateway Center, Ste. 2600
Newark, NJ 07102
Phone: 212-924-6744
Fax: 917-934-3180
Connect with Support Center.
Sign-up for SC newsletter.
Email: admin@supportcenteronline.org
LinkedIn: https://www.linkedin.com/company/77512/
Twitter: https://twitter.com/SupportCenterNY